SE-106B Automatic Edge Banding Machine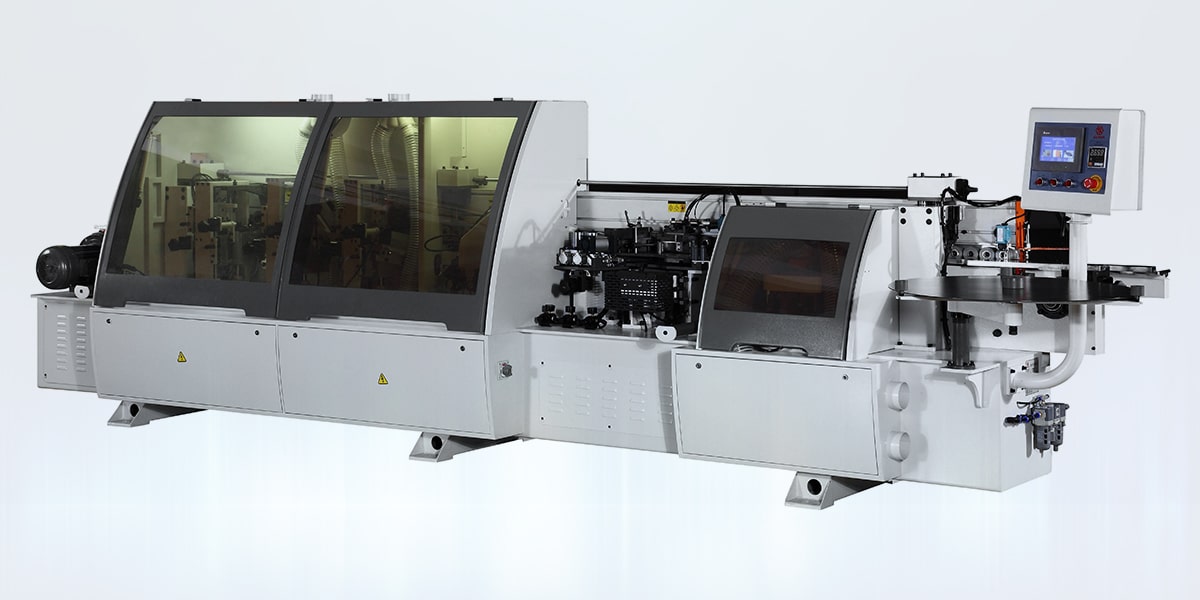 Patented Design Number: ZL201330643537.6
SE-106B edge banding machine is specially designed for the full automatic edge banding for all kinds of woodworking boards. With patented appearance design and imported famous brands of key components, machines can offer a high efficiency and stable performance with high precision for the entire production process.
Main Functions
Pre-milling, gluing & Edging, end trimming, rough trimming, fine trimming, scrapping, buffing.
1. Novel patented appearance design, fashion and beautiful, perfectly show the qualities of technology.
2. Key components are imported from famous brands.
3. Spacious operating space, ensure the convenient and efficient.
4. Heavy duty frame and mechanical components of high precision machining.
5. SE1 series edge banding machine available in variety of configurations optional, satisfy your different production requirements.
6. Pressure beam adopted electric moving up and down.
7. Machine controlled by one encoder and one limit switch, that one signal received, can finish the whole process of edging. Which reduce the failure rate, and accurate control the remain edge band (3-5mm).
| | |
| --- | --- |
| Model | SE-106B |
| Edge band thickness | 0.4-3mm |
| Workpiece thickness | 10-60mm |
| Conveyor belt speed | 15m/20m/23m/min |
| Min.width of workpiece | 60mm |
| Min.length of workpiece(without premilling) | 150mm |
| Min.length of workpiece(with premilling) | 230mm |
| Distance between two workpieces | 520-580mm |
| Total power | 14.2kw |
| voltage | 380V(±5%) |
| Air pressure | 0.7Mpa |
| Weight | 1790kg |
| Dimension size | 5500*1000*1600mm |
| Diameter of suction port | Φ100x4 |
Woodworking can be a tedious, difficult and time consuming for any shop. However, a company in Guangdong, China called Sandar CNC, is looking to change that. Sandar CNC has been in business for 25 years, manufacturing CNC and other woodworking machines. Sandar CNC has a commitment to customer service and satisfaction. Every machine a customer buys from Sandar comes with a 12-month guarantee and Sandar employs technical and customer service staff that is professional, friendly and most important of all helpful.
Looking For A Machine
One Sandar CNC product is the SE-106B Automatic Edge Banding Machine for wood. This is an industrial edge banding machine that brings quality craftsmanship to the workplace. The SE-106B machine is specially designed for automatic wood edge banding for all types of woodworking boards. Not only will you impress potential customers with its amazing looks, but the power behind this auto edge bander definitely matches or surpasses expectations. The machine is controlled by one encoder and one limit switch, making the manufacturing process that much simpler. The key components of this machine are imported from internationally known companies, to make the machine better and to reduce the stress of having to look everywhere for a spare part for your machine. Not only that, but the rest of the machine is precision machines by Sandar and is made for heavy duty work. Machine series SE-1 can also be customized and configured just for your shop's needs. An auto edge bander unlike any other with Sandar behind the wheel of its production.
Quality Assurance
Quality manufacturing of any kind requires the best technology, personnel and precision. Sandar CNC meets these standards. If you don't believe me, that's ok, just look at Sandar CNC's certifications. Sandar CNC is ASO-9001 certified and compliant. Simply put, ISO-9001 is the cream of the crop of certifications as far as international standards for manufacturing goes. Sandar doesn't just say their among the best, they proved it by obtaining ISO-9001 certification, which is an extremely rigorous and strict code of standards that shops of all kinds use throughout the world.
Numerous Options
Maybe the SE-106B Automatic Edge Banding Machine for wood isn't right for you, that's ok, Sandar CNC has quite the lineup of wood edge bander machines. All protected by a 12 month guarantee and produced under ISO-9001 standards. Any company in the world can trust Sandar CNC's processes are efficient, careful and customer oriented. Sandar CNC means business and is looking to innovate in the manufacturing of wooden products.
Sandar's SE-106B Automatic Edge Banding Machine for wood is an excellent choice for any shop working with wood. The company stands behind their product and is committed to helping their customers with any technical or customer service related issue. A commitment to customer satisfaction, ISO-9001 compliance and patented appearances set apart Sandar from the rest. By all means, please checkout Sandar CNC and maybe you will find exactly what you are looking for at Sandar.
An industrial banding machine can be an excellent solution for any company in need of additional processing power. In today's world, companies are often looking for ways to save money and increase profits. Because of this, the role of an industrial banding machine is becoming more important. Not only is it used to process heavy materials, but it is also used to perform a variety of non-metal processes. These include non-traditional methods such as computer numerical controlled (CNC) milling and stamping.
In order to understand how an industrial edge banding machine can help you out, it helps to understand how these machines work. Typically, these machines have a fixed or variable speed band that can be adjusted. This means that there is a constant level of performance between the machines. The reason why this is important is because you want to ensure that the files you are processing are accurate and that they will produce the end result that you desire. There are two basic types of industrial banding machines - fixed and variable speed.
Fixed-speed edge banding machines are typically more expensive than their variable-speed counterparts, but they are more reliable and usually provide better results. Generally, these machines are more difficult to upgrade due to the fact that they are designed to be very stable. Because of this, you may find that choosing a fixed-speed banding machine is a better option for some companies.
On the other hand, variable-speed edge banding machines are faster and easier to upgrade, but they do require more maintenance and care. The main advantage that they provide is the ability to adjust the speeds at which the machines run, which allows for a more precise end result. If your business produces a lot of digital files, then it may be best to choose a fixed-speed banding machine because it can process many more files at one time without slowing down.
Industrial banding machines are designed in such a way that they are able to create a highly-accurate printhead. It is important that you make sure that the banding machine you choose can handle a high volume of paper without wearing out or causing any problems. There are a few different types of paper to choose from, including glossy and matte. These differences in the material dictate whether the banding machine should use ribbon, rollers, or a roller tray. When selecting the appropriate edge banding machines, it is important that you consider the amount of paper that will be produced by your company.
When purchasing the edge banding machine that you want, it is important that you take the time to consider the pros and cons of each machine. The most important consideration is whether or not the machine will be easy to maintain. The easiest machines to maintain are those that are made of stainless steel. This type of machine does not collect rust and it does not require special cleaning supplies. In addition, the majority of stainless steel edges are not very susceptible to corrosion.
Automatic edge banding machine is a big investment for any company. For any company, the equipment they buy is an investment. The initial amount you pay for the equipment depends on many factors like the size of your business, the kind of your market and the complexity of your task to perform. It is important to take an expert's advice before purchasing such equipment for your company so that you get a suitable product.
There are certain things you need to keep in mind before buying the equipment. The size of the business or the area in which you need to install the banding machine will determine the size of the equipment required. Therefore you have to know the exact measurement of the space available in your office or in your building. The equipment you are going to buy must be easy to handle. Your budget is also a determining factor in the equipment you want to buy. There are many places where you can purchase automatic edge banding machine from but before purchasing the equipment you have to know about their reputation, their warranty terms and other issues.
One way of ensuring you buy the best equipment is by shopping around for the different brands of edge banding machines. You can search online for the different brands of banding machines available and compare them. If you do not have enough time to search, then ask your friends who are into this business. They will help you in choosing the best banding machine for your business. You can even go for the trial offers of these different machines.
However, if you are searching for an automatic edge banding machine online then you will not find much information about the machine other than the price and the brand. Therefore it is essential to read the reviews and testimonials of other customers before making the purchase. If a customer has bought the same machine as you, then you can get some good tips about the machine and its maintenance. These reviews are helpful and can save you some money on the banding machine that you want to buy.
Once you have decided the brand and the type of edge banding machine that you need for your business, then the next step is to compare the prices. You can search for the price of the machine online too, but if you want to know about the warranty and the other terms and conditions of the company, then you should visit the place where the machine is sold. You should see the actual product when you check out the place. If you do not like the product then you can return it, but you have to follow all the rules of the store.
The Internet is the best place to find an automatic edge banding machine. There are so many companies which sell these machines online. You just have to choose the best company that sells the best product and the one that also offer warranty and services. You can compare the price and the features offered by the different companies. If you are searching for the best price, then you can check out the online auction sites. When you have made the right decision, you will be able to get the automatic edge banding machine which is beneficial in every way.
CONTACT US


GUANGDONG SANDAR CNC MACHINERY CO., LTD.
We provide customers with quality products and services.
If you would like to leave us a comment please go to contact us
© 2019 GUANGDONG SANDAR CNC MACHINERY CO., LTD. All rights received.