SE-107B Automatic Edge Banding Machine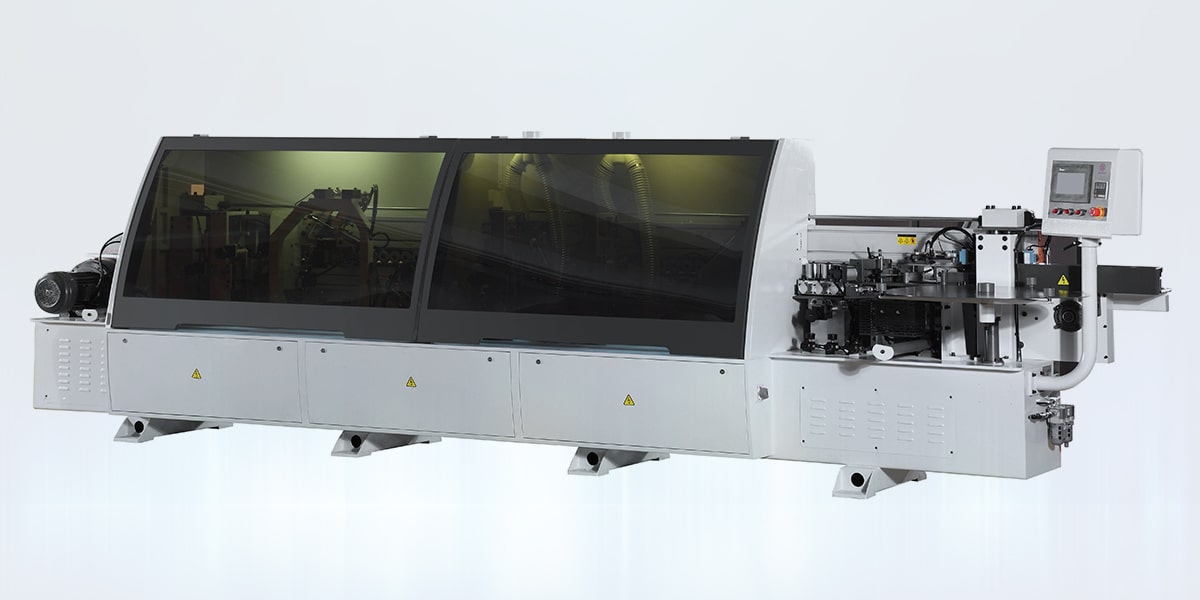 Patented Design Number: ZL201330643537.6
SE-107B edge banding machine is specially designed for the full automatic edge banding for all kinds of woodworking boards. With patented appearance design and imported famous brands of key components, machines can offer a high efficiency and stable performance with high precision for the entire production process.
Main Functions
Gluing & Edging, end trimming, rough trimming, fine trimming, corner rounding scrapping, buffing.
1. Novel patented appearance design, fashion and beautiful, perfectly show the qualities of technology.
2. Key components are imported from famous brands.
3. Spacious operating space, ensure the convenient and efficient.
4. Heavy duty frame and mechanical components of high precision machining.
5. SE1 series edge banding machine available in variety of configurations optional, satisfy your different production requirements.
6. Pressure beam adopted electric moving up and down.
7. Machine controlled by one encoder and one limit switch, that one signal received, can finish the whole process of edging. Which reduce the failure rate, and accurate control the remain edge band (3-5mm).
| | |
| --- | --- |
| Model | SE-107B |
| Edge band thickness | 0.4-3mm |
| Workpiece thickness | 10-60mm |
| Conveyor belt speed | 15m/20m/23m/min |
| Min.width of workpiece | 60mm |
| Min.length of workpiece(without premilling) | 150mm |
| Min.length of workpiece(with premilling) | - |
| Distance between two workpieces | 520-580mm(with corner trimming is 720mm) |
| Total power | 11.5kw |
| voltage | 380V(±5%) |
| Air pressure | 0.7Mpa |
| Weight | 2100kg |
| Dimension size | 5600*1000*1600mm |
| Diameter of suction port | Φ100x3 |
Many people have a misconception that woodworking edge banding machines are only good for cutting nails and wood. This is untrue in most cases. A woodworking edge banding machine can also be used to join two pieces of wood together, or even to sand down the face of a piece of wood. This means that a woodworking edge banding machine has more uses than just cutting tools.
A band saw is primarily a horizontal woodworking machine that cuts long strips of wood by compressing the wood between two opposing slabs of wood. The edges of the banding move across the horizontal band, causing the wood to be pushed down into the machine. The wood in a horizontal band is usually pre-made, or at least pre-cut to size before it is fed into the machine. The bands are designed so that they will all move equally during the cut, which allows the wood to be fed into the wood shredder without much of a struggle. The band saw also moves at a very fast pace, making it impractical for home woodworking projects.
Band saws are the primary tool for woodworking. They come in many different styles and sizes to suit different needs and styles. For small to medium sized jobs, a hand held woodworking edge banding machine may be the best choice. These are small and compact, and are easy to operate. Hand held band saws tend to lack a variety of features that a larger machine would have, such as up and coming band saws with dual action blades.
A band saw can be purchased with a variety of accessories and attachments. Most of these attachments are useful for woodturning and cabinet work. However, some of them may not be needed if the machine is being used to make cabinets. If this is the case, then the cost of buying an entirely new banding machine would be more than worth it.
A band saw is a great addition to any woodworking shop. It is a versatile piece of machinery that can quickly and easily cut through virtually any type of wood from plywood to maple. It is a necessary item in the shop.
Purchasing the band saw itself may be the easiest part of purchasing a woodworking edge banding machine. The band saw itself may be purchased at a local hardware store. Alternatively, one of the many online vendors is a good place to start looking. When making a purchase, be sure to consider the band saw's size, speed, and the number of blades available. Depending on the use of the machine, one should consider other features such as availability of spare parts, warranty, and availability of repair and modification services.
CONTACT US


GUANGDONG SANDAR CNC MACHINERY CO., LTD.
We provide customers with quality products and services.
If you would like to leave us a comment please go to contact us
© 2019 GUANGDONG SANDAR CNC MACHINERY CO., LTD. All rights received.