SE-108B Heavy-duty Automatic Edge Banding Machine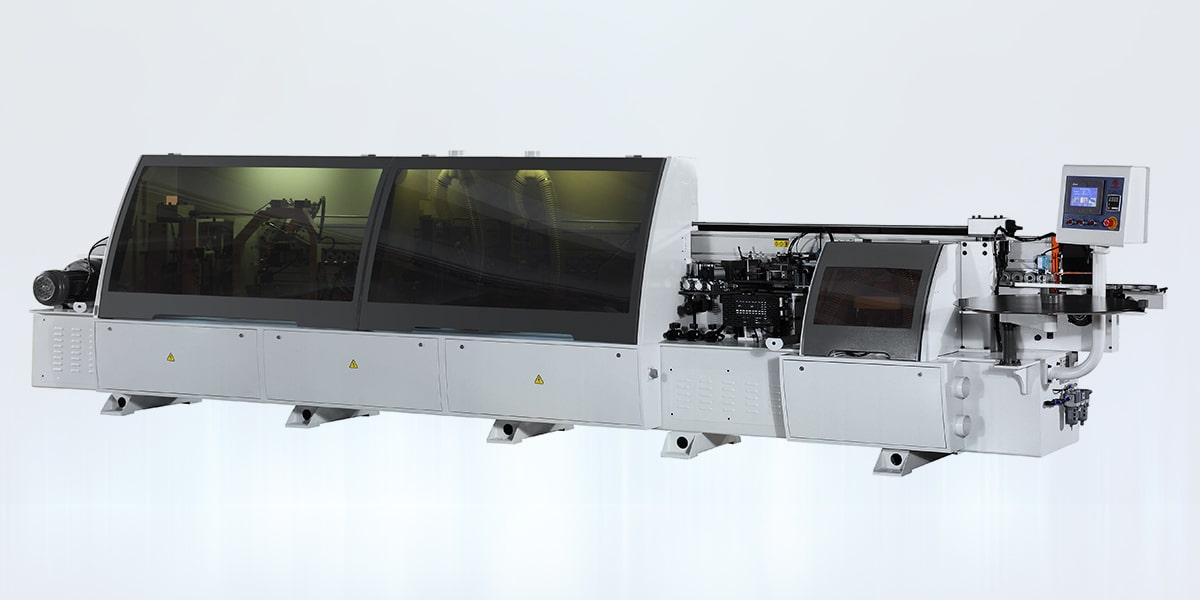 Patented Design Number: ZL201330643537.6
SE-108B edge banding machine is specially designed for the full automatic edge banding for all kinds of woodworking boards. With patented appearance design and imported famous brands of key components, machines can offer a high efficiency and stable performance with high precision for the entire production process.
Main Functions
Pre-milling, gluing & Edging, end trimming, rough trimming, fine trimming, corner rounding scrapping, buffing.
1. Novel patented appearance design, fashion and beautiful, perfectly show the qualities of technology.
2. Key components are imported from famous brands.
3. Spacious operating space, ensure the convenient and efficient.
4. Heavy duty frame and mechanical components of high precision machining.
5. SE1 series edge banding machine available in variety of configurations optional, satisfy your different production requirements.
6. Pressure beam adopted electric moving up and down.
7. Machine controlled by one encoder and one limit switch, that one signal received, can finish the whole process of edging. Which reduce the failure rate, and accurate control the remain edge band (3-5mm).
| | |
| --- | --- |
| Model | SE-108B |
| Edge band thickness | 0.4-3mm |
| Workpiece thickness | 10-60mm |
| Conveyor belt speed | 15m/20m/23m/min |
| Min. width of workpiece | 60mm |
| Min. length of workpiece (without premilling) | 150mm |
| Min. length of workpiece (with premilling) | 230mm |
| Distance between two workpieces | 520-580mm (with corner trimming is 720mm) |
| Total power | 15.7kw |
| voltage | 380V(±5%) |
| Air pressure | 0.7Mpa |
| Weight | 2280kg |
| Dimension size | 6600*1000*1600mm |
| Diameter of suction port | Φ100x5 |
The wood edge bander is a necessary piece of equipment for anyone who has ever had to perform the tedious task of painting and staining wood. Banders are typically used in large, well-known woodworking shops where the wood is usually in great condition. However, if you have ever been involved in such a task then you know how difficult it can be. Not only does the wood need to be stained or painted but also sanded and prepped for the task at hand. If the wood edge bander supplier that you use does not offer this service then you are going to be forced to either hire someone to do it for you or buy your own banner. Here are some things that you will want to consider when looking for a supplier for this important piece of equipment.
The size of the banner is an important consideration. When you are working with a large piece of wood you want to make sure that it can handle the extra weight. The last thing that you want to do is have your wood edge bander break because it can't handle the extra load. Another thing that you want to consider is how stable the machine is. There are some woodworking machines that are not very reliable so you need to make sure that you can rely on them.
A wood edge bander is made to glide along the wood. It needs to be durable enough to handle the pressure that it will put on the wood as you move it along. Some of the more expensive types of bander machines can glide on wood right onto a workbench top. These machines are usually pretty heavy duty and will give you a very satisfying ride as you work. Some wood workers prefer to use this type of machine to finish their work before they start sanding the wood. You need to make sure that the machine that you choose will be able to handle what you need it to do.
If you are going to be using a wood banded to help you cut or carve wood then you need to know exactly what you are doing. Some people think that they can just slide in the wood edge bander and start working with it. This is not the best way to handle this wood and you could end up damaging your wood. Before you get started, make sure that you have the right type of wood under. This will ensure that you will have no problems when you start sliding the banner over the wood.
The type of wood bander that you choose will depend on the amount of time that you want to spend working with your wood. For example, if you want to finish off a board or several boards then you will need something that can glide on the wood without making any marks. You will also need something that is fairly durable. For woodworking projects that are not too complicated you can find wood edge bander suppliers that sell benders with different attachments so that you can accomplish different projects.
If you are looking to buy wood banker supplies it is important that you talk to someone that has a lot of experience. Find out what types of wood edge bander suppliers that you can find around you and get some advice about which ones to buy from. This will help you make sure that you are able to get quality products that will last you for a long time to come.
Automatic edge bander machines are a useful addition to any company's construction site. The main advantage of using one of these machines is that it can assist in making sure that you have the best possible edge along any construction surface. One of the main factors in making sure that this occurs is to make sure that the material that you use is of high quality and will not slip or be damaged. One particular area where automatic edge bander machines are most often used is in areas where you have a large amount of wood that needs to be dealt with quickly. These machines enable you to ensure that you have managed this difficult task effectively without any problems arising as a result.
There are several different types of automatic edge bander machinery that can be used in a wide range of applications. One particular model is known as the roller edge bander machine. This particular unit operates in a similar way to the standard bander machines, whereby it rolls over the material being handled. However, this particular model has an extra function. Once it has rolled over the material, it leaves a very raised finish on the surface of the material that it is currently operating on.
Some companies also manufacture automatic edge bander machines that use water as an active agent. This system allows for the water to be sprayed directly onto the material being worked on. The water acts as an abrasive agent, which helps to remove any of the lumps and bumps that may have accumulated whilst working on the surface of the material. Once this has been done the binder machine can be turned off, and the job can then be carried out once more manually.
One of the most common automatic edge bander machines is the rotary bender machine. It works in a similar way to the roller edge bander machinery. However, the operative here is that the bender moves in a circular orbit around the work surface. The machine will also often rotate in a horizontal manner.
Many companies have used under machines to ensure that they do not miss any spots that may be present when they are cutting material. They are also commonly used by woodworkers to ensure that they do not damage the wood when they are working on a project. This is due to the fact that the edge bander will push the material away from the work surface, so that any hard or sharp edges are removed. Most woodworkers find this extremely useful when they are attempting to smooth out a wooden board. It also helps when making large pieces of wooden furniture as it helps to keep them straight when they are being cut by hand.
These types of bander machines can usually be bought as either fully automatic or semi-automatic, but most manufacturers will produce a variety of options to choose from. If you are looking to purchase your own automatic edge bander machine, you should consider a few things. First, you will need to decide on which application best suits your needs. Whether you need a banner for woodworking or another industrial use, you will need to figure out how big the unit is going to be and how much material it can handle. Some bander applications will require that the unit have a larger cutting area than others, which is based upon the type of material that you are dealing with. Once you have all of these items in order, you should be able to find a machine that is right for your needs.
CONTACT US


GUANGDONG SANDAR CNC MACHINERY CO., LTD.
We provide customers with quality products and services.
If you would like to leave us a comment please go to contact us
© 2019 GUANGDONG SANDAR CNC MACHINERY CO., LTD. All rights received.