SE-208TA Heavy-duty High Speed Automatic Edge Banding Machine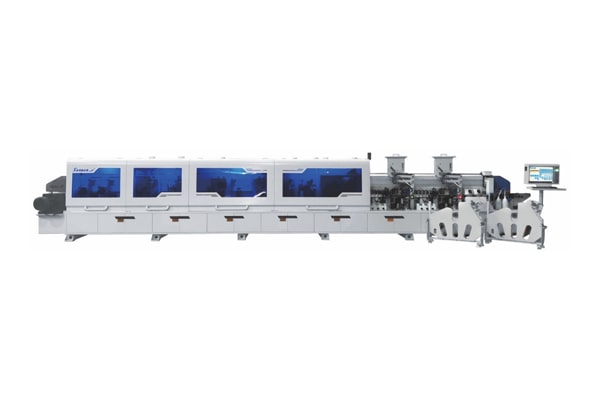 SE-208TA edge banding machine is specially designed for the full automatic edge banding for all kinds of woodworking boards. Designed with double quick-melt glue pot. Max. feeding speed: 26m/min. With patented appearance design and imported famous brands of key components, machines can offer a high efficiency and stable performance with high precision for the entire production process.
Main Functions
Pre-milling, quick melt gluing & Edging1 , quick melt gluing & Edging2, pressure roller glue scraping device, pneumatic trimming1 , pneumatic trimming2, corner rounding, pneumatic scraping1, pneumatic scraping 2, edge band clamping unit, buffing1, buffing 2.
PC Auto-counter: Interface visualization is more intuitive, more convenient to operate with the use of the length (meter) of the edge band daily count and workpiece daily processing (surface) statistics function.
Double Edge Band Loading Device: Loading disc can install two rolls of edge band tape, when each of them finished, the color alarm lamp will light up.
Automatic Lubrication System: It can automatic lubricating the guide rails on end trimming unit, to make sure its smoothly sliding.
Quick Corner Trimming: Adopt 4 SETS of high speed round contouring trimming device, realize the stable and rapid corner trimming.
Quick Melt Gluing (with automatic heat preservation function): Model SE-208TA with 2 SETS. Installed with Germany import liquid level controlled, accurately control the additive glue amount. Realize the continuously heating control, and satisfy the requirement of high speed edging and gluing.
Motor Frequency Conversion Device: Each trimming unit controlled by independent converter (Except for buffing and scraping unit), effectively reduce the maintenance cost.
| | | | | | | | | | | | |
| --- | --- | --- | --- | --- | --- | --- | --- | --- | --- | --- | --- |
| Model | Buffing2 | Buffing1 | Flat Scraping | Pneumatic Scraping2 | Pneumatic Scraping1 | Four cutters corner trimming | Pneumatic Trimming2 | Pneumatic Trimming1 | End Trimming | Quickmelt and Edging 1& 2 | Pre-milling |
| SE-208P | • | • | • | • | • | • | • | • | • | • | • |
| | |
| --- | --- |
| Technical Data | SE-208TA |
| Edge band thickness | 0.4-3mm |
| Work-piece thickness | 10-60mm |
| Converyor speed | 20m/23m/26m/min |
| Min. width of work-piece | 60mm |
| Min. work-piece Length (Without using pre-milling) | 160mm |
| Min. work-piece Length (Using pre-milling) | ≥230mm |
| Total power | 21.5kw |
| Working voltage | 380V,50HZ |
| Air pressure | 0.7Mpa |
| Weight | 3580kg |
| Packing size | 10500*1050*1850mm |
| Diameter of suction port | Φ100x8 |
EDGE BANDING MACHINES - GUARANTEEING HIGH-QUALITY FINISH TO YOUR WOODEN PRODUCTS
Edge banding machine China is a popular piece of woodworking machinery and plays a significant part in the furniture production line. Furniture has been made from wood for centuries, but using wood increases the overall cost and also comes with its own set of challenges. Craftsmen nowadays prefer to make furniture from plywood and to seal those pesky corners, edge banding machines are used, which do a pretty nice job. It can supplant traditional manual processes with exceptionally automated machinery with the benefits of high processing quality and quick processing productivity. The automatic edge banding machine China has proved to be a complete package as they perform a wide range of functions such as pregrinding, sealing, coating, binding, scratching, polishing, etc, thus reducing the need for excess machinery.
Guangdong SANDAR CNC Machinery Co., Ltd., established in 1995, is the pioneer in edge banding technology and has introduced state-of-the-art edge banding machines in China. Our single-sided and double-sided edge banding machines are designed to process a wide range of materials with flexible production and absolute precision. At Sandar, we offer modern and effective solutions for formatting and edge banding, soft forming, and shaped parts through feed machines. At SANDAR, we strive to provide our customers with high quality and state-of-the-art machinery, and thus all our products have achieved the TUV and CE certification giving our customers another reason to invest in our products.
In the past decade, edge processing was something that was done by using manual labor. Following the sawing timber, plywood, or MDF, it was tradition to make the edges of the material ready for the next step of the manufacturing process, such as the use of sanders, with manual tools. With the world moving towards mechanization, industries are in dire need of the latest machinery to handle bulk orders and to get things done more efficiently. At Sanders, we understand the growing needs of the industry, and thus we have introduced a wide range of edge banding machines that provide a top quality finish to your final products. The SE-208TA Heavy-duty high Speed Automatic Edge Banding Machine has proved to be the star of the show with its outstanding reputation for adaptability and reliability. The automatic edge banding machine in china is fitted with a Pc Auto counter which provides a more user friendly visualization, thus making it more convenient to operate with the help of work-piece daily processing statistics function and the edge band daily count. The automatic lubricating system lubricates the end rails on the trimming unit, to ensure that everything runs smoothly. One of the most noticeable features which set it apart from all other machines is the 4 sets of high speed round contouring trimming device, which ensures precise, rapid, and stable corner trimming, thus giving your product a high end finished look. The machine is very easy to operate as it is equipped Double Edge Band Loading Device, which consists of two rolls of edge banding tape, when any one of them finishes, the color alarm light up to signal and re-install a new edge banding tape. The SE-208TA Heavy-duty high Speed Automatic Edge Banding Machine is the ultimate edge banding solution as it designed with a double quick melt glue pot and is also installed with Germany import liquid level controlled, which precisely control the additional glue amount, provides continuous heat control and also meets the requirements of high speed gluing and edging. Well, we know what you might be wondering! A machine with so many features often proves too heavy on the pocket due to its high maintenance cost. But that is not the case with edge banding machine china, as each trimming unit is run by an independent converter, except the scrapping and buffing unit, which ultimately results in a lower maintenance cost. Talk about scoring a deal. With such power-packed benefits, the edge banding machine China will surely optimize your investment and take your production output to a whole new level.
CONTACT US


GUANGDONG SANDAR CNC MACHINERY CO., LTD.
We provide customers with quality products and services.
If you would like to leave us a comment please go to contact us
© 2019 GUANGDONG SANDAR CNC MACHINERY CO., LTD. All rights received.