SK-2800SP CNC Panel Saw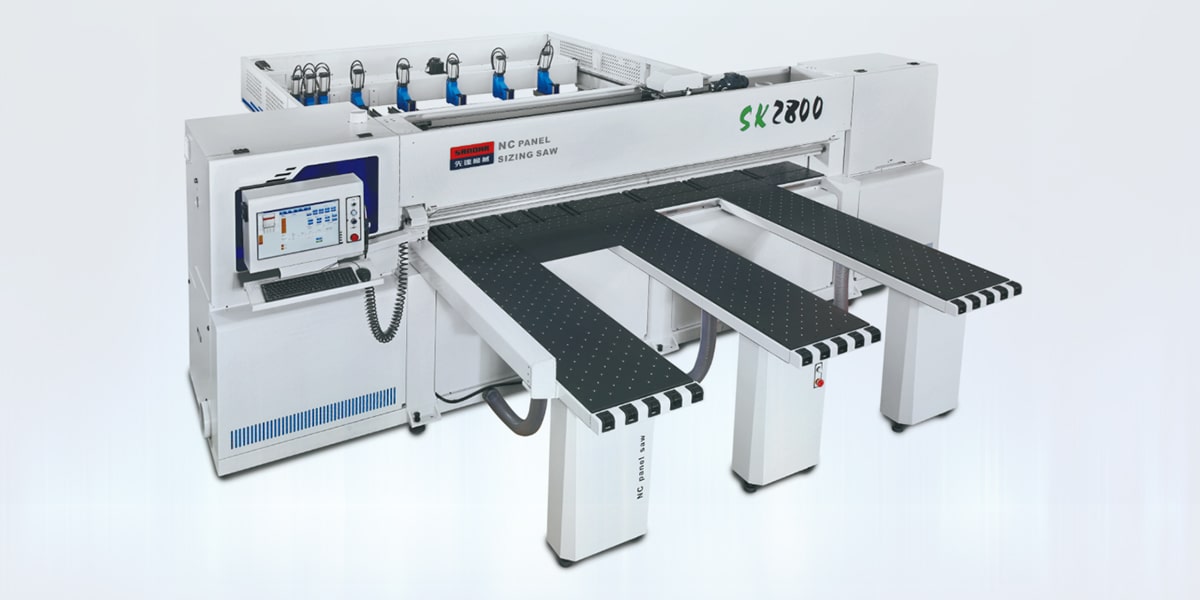 SK-2800SP CNC Panel Saw is the full automatic cutting equipment that can provide quantity production solutions of panel cutting for furniture manufacturing. Adopting 19" LED screen and PC computer control system, machine can be connected with production data software to input the production data directly. Highly raising the production efficiency and reducing the daily production costs for the factories.
European technical design
High precision high efficiency
Suitable for high precision production requirement.
Precision, Durable
CNC BEAM SAW MACHINES - PROVIDING COST EFFICIENT AND PRECISE CUTTING FOR YOUR INDUSTRIAL NEEDS
CNC beam saw machines are used in the woodworking industry as a popular tool for effective and precise cutting of beams and panels. An effective CNC beam saw machine, when combined with the latest software, makes mass production of uniform beams and panels efficient and swift, while also reducing the overall reducing cost. CNC panel saw machines are used in the woodworking as well as the plastic industry for precise cutting, adding a finished edge to your final products.
Guangdong SANDAR CNC Machinery Co. Ltd. has established itself as one of the biggest CNC beams saw suppliers not only in China but in different countries across the globe. Since its establishment in 1995, the company has now come a long way. At Sandar, we have a diverse company portfolio composed of a wide range of woodworking machinery such as multi-spindle boring machines, CNC drilling machines, CNC processing centers, CNC panel saw machines, etc, which provides a high-quality finish to your final products. At Sandar, we have a team of highly trained professionals who work round the clock and due to their constant efforts, we have been awarded the certification of Adopting International Standard Product Marking, certification of Chinese GMC certified high-quality manufacturer, and Guangdong High-tech Products.
CNC beam saw machines are now becoming a prerequisite in the woodworking industry as they provide high quality finished goods that meet the requirement of the growing demand of the wood market. At Sandar, we have introduced a wide range of CNC panel saw machines of different capacities that are designed to cater to your woodworking needs. Our state-of-the-art machines guarantee the highest productivity, even our smallest CNC beam saw machine can cut up to a hundred single panels per shift, and an angular plant can cut up to fifteen hundred panels in a single shift. Our CNC beam saw machines provide a wide range of processing options such as four side processing, stress release cuts, grooving, post-forming cuts, and cut of strips for your edge bending machines which allow you to make different designs and that too by using a single machine. While working in the wood industry engineers and craftsman require machines which can work well with different materials, keeping this in mind we at Sandar we have designed the CNC beam saw machines which can handle a wide range of materials especially laminated particle boards and MDF which particularly prove very hard to work with. The CNC panel saw machine is equipped with a pressure beam, which provides a strong mechanical hold down on the material when it gets porous or is under work, ensuring precise cutting of a single sheet or a stack of sheets with attractive, clean edge quality throughout the stack. Our panel saw machines have become increasingly popular as they have a user-friendly interface, 19" LED screen, and PC control system, which makes it convenient for the workers to input instructions before feeding the material. The CNC panel saw machines have easy programming software, which requires less programming, and in return the machine requires less man labor reducing the overall production cost. The CNC panel saw machines have proved to be eco-friendly as they produce less waste and are more energy-efficient than any other machines in the market.
Max. working size: 2700 x 2700x 90mm
Advanced flange fastening structure, which saw blades installation more convenient. Saw carriage rising rapidly, Max.sawing height: 120mm (install with 450mm blade).
Saw Carriage and Blade Transmission Device: Saw carriage adopts heavy duty cog wheel and gear racks, which support the rapid and stable sawing. The up and down adjustment of main saw and grooving saw controlled by precision cylindrical guide, main and grooving saws driven by independent motor, main saw can automatic adjust rising height according to work-piece thickness.
Side Aligning System: Lateral thrusting by numerical control positioning, more accurately lateral pressing the work-pieces. Pressure can be adjusted according to the work-pieces of different thickness, weight and material ensure the precision of sawing dimension.
PC Computer Controlled System: Equipped with 19"LED screen, prefect Windows control interface, completely functions and diagrams. Which production controller can input the data from the office, realize the long distance control.
Saw Carriage Sliding Mechanism: Made by precision chromium-plated steel guide wheel and cylindrical guide, which ensure the precision linear motion and low vibration of the saw carriage, realize the accurately sawing.
Gripping and Feeding Device: Driven by servo motor, combine with cog wheel and gear racks, realize accurately feeding positioning, ensure the dimensional accuracy of work-pieces.
New Type Grippers: Heavy duty design, with strong gripping strength and feeding strength, ensure the smoothly work-pieces feeding. Optimized design, new type grippers, to realized the min.sawing thickness: 45mm. Working table made by chromed steel plate, with high strength and good wearing resistance. Reducing the friction between work-pieces and table, avoid the surface damage of work-pieces.
Air Floatation Table: Equip with 1 SET of 4KW air pump, table surface install with stainless steel beads, effectively reduce the friction between work-pieces and beads; Auxiliary rollers installs in front of the working tables, convenience for the work-pieces carried up and down and reduce the friction; Emergency stop button installed under the working table, for emergency protection.
| | |
| --- | --- |
| Technical Data | SK-2800SP |
| Max working size | 2700*2700*90mm |
| Max saw motor | 15kw |
| Scoring saw motor | 1.5kw |
| Pusher motor | 2kw |
| Saw carriage servo motor | 2kw |
| Max cutting height | 90mm (120mm Optional) |
| Cutting speed | Max.85m/min |
| Saw carriage return speed | 100m/min |
| Pusher speed | Max.85m/min |
| Main saw rev. | 4300rpm |
| Scoring saw rev. | 5900rpm |
| Main saw size | φ400 (φ450 Optional) |
| Scoring saw size | φ200mm |
| Working Voltage | 380V, 50HZ |
| Air pressure | 6-8kg/cm2 |
| Total power | 27.3KW |
| Weight of machine | 4580kg |
| Diameter of suction port | Φ200x2, Φ100x2 |
Are you thinking about purchasing a CNC panel saw for sale? If so, this is a very wise decision. While CNC woodworking machines can be extremely useful and very profitable, they can also be extremely dangerous. So, before you purchase one, it is absolutely necessary that you know everything there is to know about this type of machine and what it can do to your project!
The CNC panel saw for sale is the ideal machine for just about any do-it-yourself project that involves woodworking. However, with this type of machine comes a variety of different options, some of which are very useful and others not so much. For instance, if you are going to be using your new saw for cutting out door panels and other wood paneling, then you will want something with a large cutting area. With many CNC woodworking machines, the space requirements are extremely small; however, some of the more popular saws like the Hitachi or Bosch are large enough to fit even the largest door panels in existence!
A CNC panel saw can also help out with crosscutting as well. As the name suggests, it is the job of this saw to cut crosswise and vertically. Crosswise cuts are used for making stock, shelves, and such while vertical cuts are needed for things like furniture and cabinets. While this might seem a bit complicated at first, with a proper manual on how to use the panel saw properly, it is actually very easy to get these cuts just by knowing how to read the blade profiles and other instructions that come with the machine.
When searching for a CNC panel saw for sale, you should also make sure that the saw has what you need. For example, some woodworkers simply want a simple single blade. If this is the case, then you can save yourself a lot of money by looking at the various saws that have this option. But, if you are looking to have features added to your project, then you might want to look into the availability of those features.
When you are in the market for a saw, you should also look at the different warranty options that are available. You may not necessarily think that the best warranty would come with the cheapest saw, but when you are buying a high-end product, you want to be assured that it will last. Some of the best warranties are provided by the manufacturers themselves, so they can provide the best customer service as well. You should also pay close attention to the price tag, as these machines can get quite expensive. However, there are many deals available if you take the time to look around!
When looking for a CNC panel saw for sale, make sure that you take all of the above factors into consideration. In particular, you should ensure that the machine you buy has the features you need and is priced competitively. It is also advisable to set aside a fixed budget, so that you won't overspend on the purchase. You should also read the fine print on any warranty documents very carefully. Finally, once you have found the right saw, be patient in making the final decision!
CONTACT US


GUANGDONG SANDAR CNC MACHINERY CO., LTD.
We provide customers with quality products and services.
If you would like to leave us a comment please go to contact us
© 2019 GUANGDONG SANDAR CNC MACHINERY CO., LTD. All rights received.