SKD-6/2 6 Sides Double Working Area CNC Drilling Machine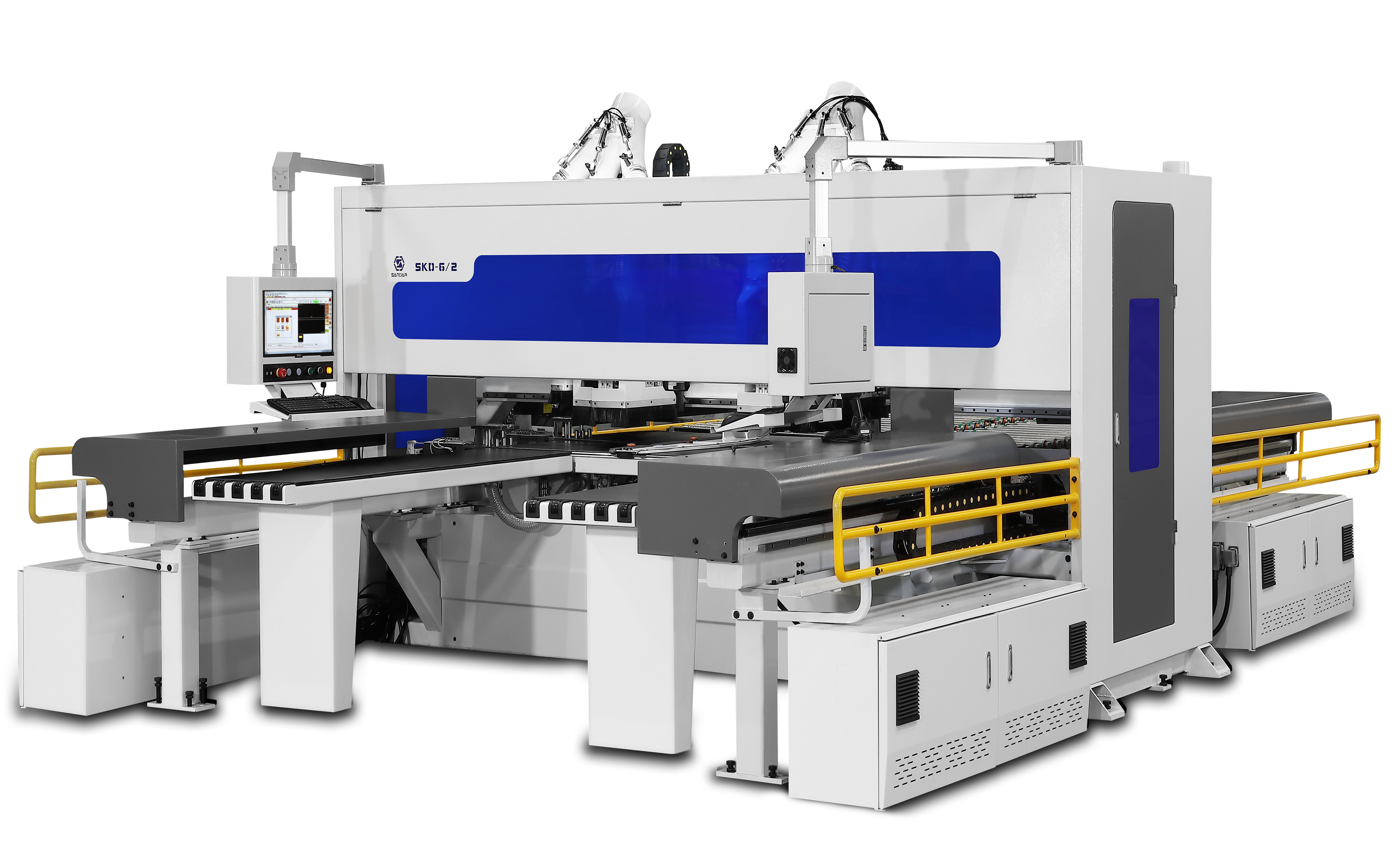 SKD-6/2 6 Sides CNC drilling machine is the full automatic drilling /Boring equipment,designed with 2 top and 2 bottom drilling, 2top and 2 bottom milling device, that can provide the complete solutions of synchronous 6-sides holes drilling, top & bottom sides grooving/Milling for panel-type furniture manufacturing.
SANDAR CNC Drilling Machine SKD-6/2, designed with double working areas. Which can application for left and right working position operation at the same time. Fully realized the machinery efficiency, more stable and flexible. Working efficiency higher than two machines connection lines, save more space and input costs.
Heavy-duty structure designed, Adopting GERMAN bus control system. Machine can be connected with variety brands of production design data software,which can input the production data directly. Highly raising the production efficiency and reducing the daily production cost & labor costs for the factories.
Left Side Controller, Designed with 2 Tops + 2 Bottom Drilling Chucks, and 2 Top + 2 Bottom Milling Device.
SKD-6/2 6 Sides CNC drilling machine is the full automatic drilling /Boring equipment,designed with 2 top and 2bottom drilling, 2 top and 2 bottom milling device.
1. Adopt Germany bus controlled CNC system, integrated Self-developed CAD/CAM Software that carry out sheet metal graphical editing and directly generate NC Program for Processing.
2. Machinery can connect with variety brands of production data software, directly import production data, realizes intelligent seamless connecting to production.
3. The precision processed heavy- duty frame and components can ensure the stability and durability of the machinery high-speed operation.
4. Machinery installed with biaxial symmetric double drill chucks, which can work together for processing the coaxial holes on the same work-piece, double improve the processing speed.
5. Extended guide rail, application for processing work-piece without length limitation, one time positioning, to avoid repeated clamping and feeding, increase processing speed.
6. Original point adopt absolute memory positioning, reduce the re-position because of machinery stoppage.
7. Installed with air flotation platform, which reduce the friction between work-piece and working table, to protect the surface of work-piece.
8. Data can be one time imported to complete the six sides drilling.
9. Symmetrical holes and grooves at two sides of panel can be processed synchronously, doubling the processing speed.
10. Machine is able to process stacked panels (two pieces synchronously) with mirror layout of holes and grooves, doubling the processing speed.
Technical Date

SKD-6-2L

Working Stroke & Max.Positioning Speed

X axis (5900mm guide rail)

X1/X3: 3800mm, 130m/min

X2/X4: 4500mm, 130m/min

Y axis

Y1/Y3: 2500mm, 110m/min

Y2/Y4: 1600mm, 110m/min

Z axis

Z1/Z2/Z3/Z4: 90 mm, 60 m/min

Uaxis

U1/U2:1300mm,90m/min

Upper Drilling Unit

Drill chuck quantity

2pcs

Vertical drilling

(6X+6Y) X 2

Horizontal spindle

(2L+2R, 2F+2B) X 2

Motor power

2.2KWx24,000rpm

Bottom Drill Unit

Vertical drilling

(3x3 Matrix distribution)X2

Motor power

2.2KWX2, 4500rpm

Router

Router quantity

2UP+2Bottom

Router type

Grooving & Round milling

Tool diameter

Ф6-Ф12mm(Tools optional)

Tools handle diameter

1/2

Motor power

3.5kwx24,000rpm

Processing Size Range

Min.width of work -piece

35mm

Max.width of work -piece

650mm (When double work area)

1520mm (When single work area)

Min.Length of work -piece

250mm

Max.thickness of work -piece

60mm

Other Data

Working table height

900mm

Total power

47kw

Working Voltage

380V, 50HZ

Air pressure

0.6-0.8Mpa

Overall dimensions

6550x4000x2200mm (length*width*height)

Diameter of suction port

Ф200mmx2, Ф125mmx2
A CNC drilling machine manufacturer is responsible for the design and manufacture of CNC drilling machines. They are also responsible for providing training, support and equipment to the operators. Some of the manufacturers that can offer CNC drilling machines are Atlas Drilling Company, K&N Drilling, J.C. Johnson and Autoaxis. These manufacturers offer drilling machines that are made in Taiwan and China. If you are planning to get a CNC drilling machine of your own, here are some important things that you need to consider first.
A good drilling machine manufacturer will always deliver a high-quality machine. They will make sure to provide a product that will last for long. When buying CNC machines, you must be able to determine their efficiency. This is very important because a poorly manufactured machine will not give you the desired result as you expected it to be. The ideal CNC machine will run for years without giving you any trouble.
One of the most important aspects to look for in a CNC drilling machine is its software. A good drilling machine will come with software that allows the operator to customize different types of drills into different specifications. It should also be able to tell the operator what kind of hole he wants to dig, how deep it needs to be and where it should be located. To be able to get maximum productivity from your machine, you should know how to use it. The right manufacturer of the drill should be able to help you with all your questions and needs.
Aside from the quality of the machine, it is also important to see how the CNC drilling machine works. You must be able to see it in operation and know how it is designed. Most importantly, you have to know how to repair it once it malfunctions. Makers of drilling machine manufacturers will not design a machine that will easily break. They are building a product that is not easily breakable.
You should also take a look at the experience of the CNC machine manufacturer. This experience can be seen on their website or in videos posted on their website. There should be a lot of testimonials about the company from satisfied customers. You should be able to check out how long the company has been in the business of drilling machines and the kinds of drilling machines they produce. This is important because you have to trust the company whose machines you are about to purchase.
The most important thing when purchasing a CNC machine is that you feel comfortable with your purchase. Never feel intimidated by the CNC machine manufacturer. As long as you do your homework, you will end up having a machine that you are satisfied with and one that operates properly for years to come.
CONTACT US


GUANGDONG SANDAR CNC MACHINERY CO., LTD.
We provide customers with quality products and services.
If you would like to leave us a comment please go to contact us
© 2019 GUANGDONG SANDAR CNC MACHINERY CO., LTD. All rights received.